Eric was born in Lexington, KY, and grew up very involved in church music, singing and touring with choirs, quartets, and as a solo artist. He started producing for others in high school.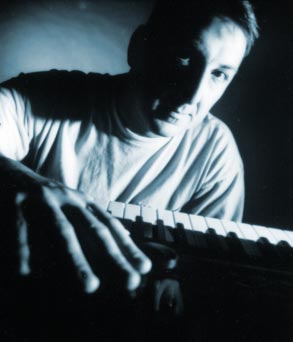 Born into a very musical family, Eric's father, David, was an accomplished vocalist and trombonist, and ran a successful dance band in the Kentucky area for many years in the 1970s. Eric's mother, Mary Janet, taught piano for many years and has been her church's organist for over 35 years. His uncle, Philip, is a very successful entertainer and commercial producer in the Louisville area. His brother, Todd, an extremely talented drummer in the central Kentucky area.
Eric has also been a prolific writer since his high school days. Starting with his first song at age 14, "Now That You're Gone", Eric continued writing ballads and piano based music, until his college days when a trip with friends changed his life.
"It was the 1981 Kool Jazz Festival in Cincinnati," remembers Eric. "I had already heard of Al Jarreau, but a certain keyboardist, Jeff Lorber, took stage and blew me away. After buying a few of his albums, it was clear the direction I wanted to go."
Eric began writing jazz, R&B, and instrumental tunes, studying artists like the Yellowjackets, Lorber, Jarreau, Michael Franks, Take 6, Gino Vanelli, and Pat Metheny.
Eric moved to Chicago in the late eighties and began working with jazz & R&B groups, while writing and practicing every night in his apartment until 2 or 3 AM.
In 1989, he turned his attention to blending his jazz-R&B style with positive, Christian lyrics. This led to working with and producing many Christian artists through the 90's.
Eric has continued his jazz-pop-R&B writing, as well as writing quite a bit of gospel, CCM, and MOR culminating in the release of "Cooler". "Cooler" is a jazz, R&B, and gospel project that showcases Eric's piano, synthesizer, and writing abilities.
Eric is excited to be with Destiny Music, as well as his own production-oriented label Creative Soul Records.

© 1999 Destiny Music, Inc. All Rights Reserved.